Find all non-Shadowfate downloads on this page.
Form-Fillable Character Sheet for THINGS FROM THE FLOOD.
Download: Things From The Flood Form Fillable Character Sheet.
Character Sheet for Uncharted Worlds for Roll20.Net 
Version 1.2 is now live in your Roll20 Games Admin page.
For Pro Level subscribers: below you find the link to the current version. Just copy&paste the contents of Uncharted Worlds.html and Uncharted Worlds.css in the respective fields under your game's "Settings – Character Sheets – Custom" tabs.
Shadow Of The Demon Lord
Damage Flowchart v1.0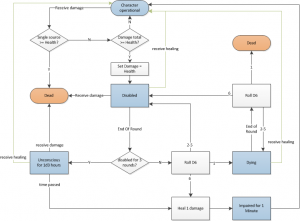 The Day After Ragnarok
Character Sheets for TDAR. TDARCharSheetv1 TDARCharSheetv2
You can find these in PNG format on the G+ group for TDAR here.
tremulus
UPDATED! 26-JULY-2014
GM Cheat Sheets containing all relevant rules you need to play plus hazard moves and more!
TremulusKeeperCheatSheetv1.1.A4
UPDATED! 18-MAY-2014
tremulus Framework Generator (Excel 2007+ including macros)
tremulus Framework Generator v1.1